What Causes A Blocked DPF?
A Diesel Particulate Filter (DPF) collects harmful particles that are produced as a by-product of burning diesel fuel; these soot particles collect in the filter over time.
'Passive Regenration' is where a diesel engine automatically burns off these soot particles, although all diesel engines will suffer from a build up of soot and ash particles over time , resulting a blocked DPF.
Running a vehicle with a blocked DPF causes reduced performance and expensive running costs, and will ultimately lead to expensive engine damage.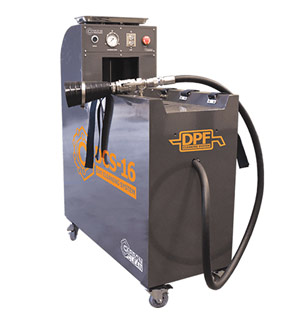 DPF cleaning machine - part of our thourough DPF cleaning process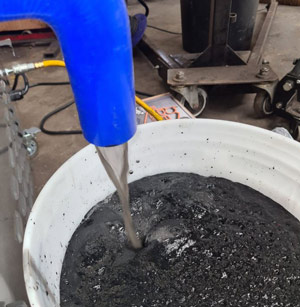 Soot and ash being flushed from a DPF over several hours
How Do I Know If My DPF Is Blocked?
Your DPF is likely to have a blockage issue if you notice any of the following signs:
Poor performance - reduced accelleration and speed

Warning light on the dashboard

Reduced fuel economy, rough idling

Loss of power

Unpleasant smell

Dirty / black exhaust fumes

'Limp-Home' or 'Restricted Performance' mode
Possible DPF Dashboard Warning Light
A blocked DPF might trigger one of these dashboard warning lights:
Pricing
The price for DPF cleaning is £250 + VAT, which includes non-corrrosive chemical treatment, and pressurised flushing of the filter, for between 3 hours and 8 hours
The DPF needs to be removed before the cleaning proccess begins, and refitted afterwards - labour for this is typically under 2 hours, and is in addition to the cleaning price above.
For an exact quote, fill in the brief form on this page, or phone 0161 710 2069.